ANSON flowline equipment is designed for today's extreme well servicing environment. Mission offers, but is not limited to ANSON pup joints, swivels, plug valves, hammer unions, and wellheads. ANSON flowline equipment is built to meet customer fracturing and well servicing requirements.
Mission offers a large range of ANSON high pressure API plug valves. The DB Series plug valve is sub-compact, lightweight range ideal for single person manual handling and truck mounting applications.
ANSON Swivel Joints

The Longlife swivel joint is a long radius journal bearing design that increases the swivel design life and greatly reduces maintenance time. The swivel elbows are a forged one-piece construction, fully heat treated and subject to a full MPI inspection to ASTM E709.
ANSON Elbows

ANSON elbows provide a 45 or 90 degree bend option for customers. For portable flowline, the most common end configuration is male x female hammer union connection. Elbow construction can either be forged or welded. Manifold elbows are also available in long sweep, full flow, and block configurations with butt weld ends.
ANSON Circulating Hoses

ANSON steel cementing and circulating hoses incorporate the unique NOV ANSON Longlife swivel joint suitable for use up to 15,000 psi working pressure or code silver threaded swivel joints for use up to 6,000 psi working pressure. Hoses can be supplied in standard service or sour gas trim with fully traceable material certification.


ANSON Fittings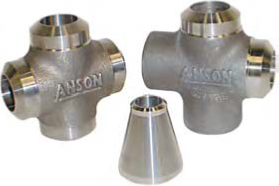 ANSON fittings encompass over 2,500 designs that include union ended tees, laterals, wye's, goat heads, crowsfoot, union crossovers, hub crossovers, and flange crossovers. Also available are ANSON full flow and block manifold fittings: elbows (long sweep, double back, and block), tees and crosses (long sweep, full flow, and block), laterals, and goosenecks. Most fittings are manufactured from closed die forgings offering high material integrity.


Pup Joints


Mission offers the industry's most extensive range of pup joints, including forged integral, welded, threaded, and NPST styles. All ANSON pup joints are available for standard or sour gas service (NACE MR-01-75/ISO 15156) and are supplied with full material traceability and certification.
Hammer Lug Unions (Sour Gas Unions)


ANSON hammer lug unions are available in hydrogen sulphide trim (Sour Gas, H2S) with either threaded or butt weld ends. Sour gas unions are manufactured in accordance with NACE Standard MR-01-75 (Latest Revision). All unions are subjected to rigorous inspection checks throughout manufacture. Sour gas unions have their batch numbers prefixed by letters S G and, for ease of identification, are painted olive green.
Note: Most unions for sour gas service are pressure de-rated.
Hammer Lug Unions (Butt Weld Unions)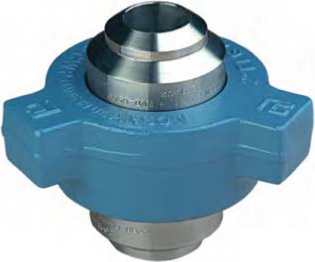 ANSON hammer lug unions are available in all Fig. numbers as butt weld unions as an alternative to the Standard API threaded end. The only exception to this being the Fig. 50 which is available as socket weld only. When ordering butt weld unions please state the pipe schedule required.
Hammer Lug Unions (Threaded Unions)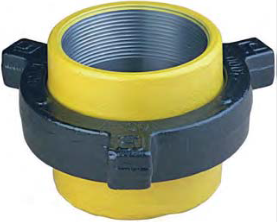 A full range of API line pipe threaded unions are available from Fig. 50 through to Fig. 1502. Threads are gauged with calibrated working API gauges which, in turn, are checked regularly with API master gauges. In addition, unions with BSP or NPT threads can be supplied upon request.
Hammer Lug Unions (Specials)
In addition to the wide range of hammer lug unions shown, Mission regularly manufactures specials to suit customers' specific requirements in regards to materials, dimensions, and types.


Seals

ANSON lip and 'O' ring type seals are available for standard service in nitrile and for sour gas service in fluoroelastomer. Manufacture is closely monitored to guarantee the correct shore hardness and composition.
Sour gas 'Superseals' are molded in special materials to resist explosive decompression for safety and reliability.


ANSON Flowheads

ANSON flowheads offer compact design resulting in reduced overall size and weight therefore increasing ease of operation. All valve seat pockets can be CRA625 inlaid to offer increased service life. The flowheads can be supplied complete with a string swivel if required. ANSON string swivels allow rotation around the string and eliminate torque transfer. They are complete with locking keys to prevent string thread back-out. Excessive testing including high temperature cyclic and slurry testing is carried out for ANSON swivels.

ANSON flowheads are available with working pressures from 2,000 psi through to 15,000 psi, temperatures from -75 ̊F (-59.4 ̊C) to 400 ̊F (204.4 ̊C) and sizes up to 9" API. All API 6A material classes are available in product specification levels (PSL 1, 2, 3 an 4).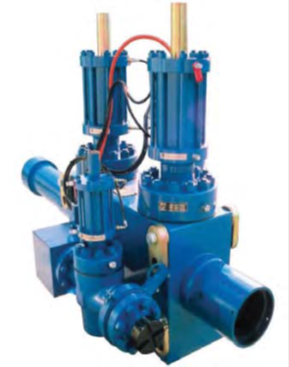 73/8" API 10,000 psi Well Test Flowhead, (Conversion from handwheel operation to ANSON hydraulic actuator)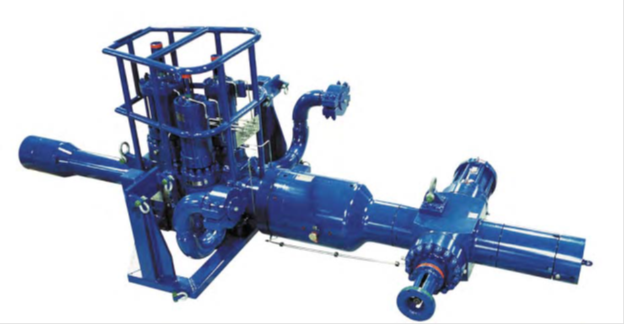 63/8" API 15,000 psi Well Test Flowhead, fully actuated compact 3 valve block design with dynamic string swivel and lower master valve