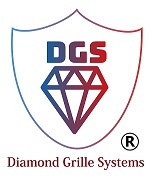 Diamond Grille Systems
®
trademarkted under LandSea Group provides you an excellent seamless invisible look of your surroundings, and safety barrier for your love ones.

Unlike Stainless Steel 304 or 316 materials wires used in Invisible Grille, Diamond Grille Systems
®
uses Switzerland Made Ultra High Strength & Corrosion Resistance Mono Core, Solid, Thin and Round Wires, our Diamond Grille Systems
®
provide you a high quality and solid Window Grilles to protect your love ones.

Diamond Grille Systems
®
are a combination of the excellent features in the Invisible Grilles and Aluminium Window Grilles / Mill Steel Window Grilles. Diamond Grille Systems
®
provide a seamless invisible look of your environment like the Invisible Grille, and give you the security and robustness of the Aluminium Window Grilles / Mill Steel Window Grilles.

Being tough and secure, and yet invisible see through view.

15 years Anti-Rust Warranty on our Diamond Grille Wires. 3 years Standard Warranty on DGS Frame & Track.

Diamond Grille Systems
®
is glad to raise the industry standard, and the only company to provide a 15 years anit-rust warranty for its Diamond Grille wires. Rather than having the worry and hustle to change the Invisible Grille wiring from time to time, Diamond Grille Systems
®
will be able to provide the users a long lasting and reliable solution.

At Diamond Grille Systems
®
, we believe that nothing is more important than the safety of you and your loved ones, and Diamond Grille Systems
®
will provide it's users the Solid like Diamond invisible see through view they truly deserved!

For more information, please visit our Diamond Grille Systems
®
website www.dgs.com.sg

For Diamond Grille System
s

®
Franchise Opportunities

Initial Investment Requirements

What will it take to run one Diamond Grille Systems
®
Production & Sales Facility
Experience in fabrication, preferably window or window grilles, renovation industry .

An understanding and desire to engage with fabrication management and sales involvement.

A clear understanding or access to knowledge of the renovation market.

A passion and dedication to operational excellence.

The ability to build a high performing team and organization.

Adequate capital; requirements vary by market, however the minimum liquid assets of $200,000 and a net worth of $300,000 per Production & Sales Facility.